International top actress & writer Halina Reijn is now a happy biker
As fans we're glad to help international actress and writer Halina Reijn with her new Gazelle bicycle. We wish her long happy cycling days & nights in Amsterdam.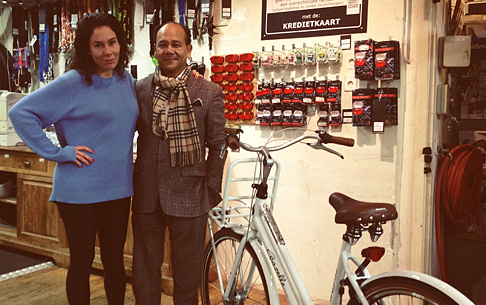 Halina Reijn was 6 when she decided to become an actress. She grew up in Groningen a small city in the Netherlands. When she was 20 years old she was accepted by three theatre schools in the Netherlands. She choose to go to the Maastricht theatre academy. In her second year of training, Job Gosschalk, a Dutch casting director, came to visit the school and saw her in a play. He introduced her to Theu Boermans, a well known Dutch director and artistic leader of the Amsterdam theatre company, Halina than left the academy to debut on stage as Ophelia in Hamlet, directed by Boermans. In the same year she got her first part in a film directed by Paula van der Oest (Labyrinth) and the Maastricht Theatre Academy decided to give her a diploma. After that she continued to act on stage: ("Lulu", "The Seagull", "Three Sisters", "Mourning becomes Electra" – theod'Or nomination), and in films: (Illes flottantes, "Zus en ZO" – nomination Academy Award best foreign film, "Grimm", "Passie vrucht", "Polleke").